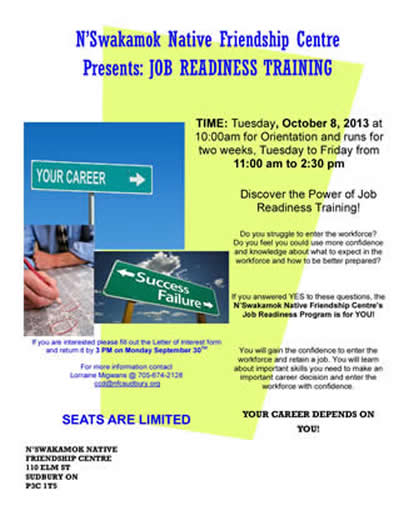 The N'Swakamok Native Friendship Centre of Sudbury is pleased to announce the release of their Job Readiness Program developed in partnership with Creative eLearning Design.

This program is available to all Aboriginal Youth 18+ working toward completing their grade 12 or mature students who are seeking to further their Job Readiness Skills and become better prepared - Spiritually, Emotionally, Mentally and Physically for their journeys in the workplace.
Participants will have an opportunity to learn more about, selfawareness, employer's expectations, life skills, essential skills, and acquire the confidence to find and keep a job.
Lunch will be provided for the participants, and bus tickets will be provided to those who require transportation.
The program will be held at the N'Swakamok Native Friendship Centre. Please contact: Lorraine Migwans at ccd@nfcsudbury.org for more information.
Applications are being accepted until Monday September 30th, 2013